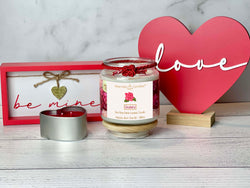 Marcella Candles
Candle Gift Set - 16oz Rose Petals Scented Candle
Description

Shipping

More Information

Candle Care Tips
Who are you grateful for?
Show your love with our new Rose Petals scented candle gift set.
The strong floral scent of rose essential oil combined with the heartwarming scents of carnation, lily, and ylang ylang creates a luscious candle that will put a smile on your loved one's face as soon as they remove the lid.
Hand-poured with 100% soy wax and 3 lead-free cotton wicks to provide a clean and even burn lasting up to 85 hours.
This gift set also comes with our new heart-shaped scented candle, 7 pieces of Hershey's kiss chocolate candy, and matches to help show your appreciation to those who mean the most to you.
Ingredients:
100% natural soy wax
Unbleached lead-free cotton wick
phthalate-free fragrance oil
100% Money-Back-Guarantee: If for whatever reason, at any time you are unhappy with your purchase just send it back for a full refund.
$6.49 Flat Rate Shipping on all U.S orders!
Orders + Processing
Once you place your order, your candle will be handmade from our facility in either Pomona, California or Dallas, Texas, and shipped within 1-5 business days, excluding holidays, via USPS.
Any orders placed over the weekend will be fulfilled that upcoming Monday.
Shipping
We know, paying for shipping sucks, but we can't all operate like Amazon. However, we can offer you Free Shipping on all U.S Orders over $75.
Once your label is created, you will receive a shipping confirmation email along with a tracking number for you to track the status of your order.
Please allow up to 24 hours for the status to update once our carrier has scanned your order.
Returns + Exchanges
Your satisfaction is our number one priority! So for whatever reason if you are unhappy with your purchase, you received the wrong product or are missing an item in your order, please let us know within 7 days of delivery by contacting us at info@marcellacandles.com and we will issue you a full refund or send you a replacement.
If an item was damaged during transit, please provide us with proof of the damaged item by emailing us a picture at info@marcellacandles.com.
Candles Made with 100% Soy Wax
Candles Fragranced with Pure Essential Oils or with Phthalate-Free Fragrance Oil
Handmade in California (and now Texas!)
Plant a Tree for Just $1 With Every Purchase
When burning the candle for the first time, please let it to burn for 2-3 hours, or until the top layer of wax has become liquid.
Make sure to cut the wick with a wick trimmer reguarly (ideal length 1/4" above the surface).
Do not let your candle burn for more than 4 hours at a time.

For safety, do not burn the candle when there is only 1/4" of wax left in the container.