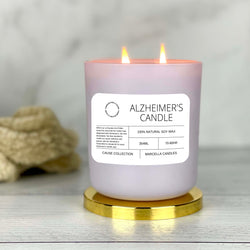 Marcella Candles
Alzheimer's Cause Candle
Description

Shipping

More Information

Candle Care Tips
Alzheimer's - When our co-founder Ann Polee first heard that her mother was diagnosed with Alzheimer's, she was devastated. During this difficult time, our cause collection was born, and we decided to partner with the Alzheimer's Association and donate 10% of net profits for every Alzheimer's Candle sold.
Our Alzheimer's candle is fragranced with pure essential oils, we used Rosemary to promote brain function, Frankincense to help improve concentration, memory and relieve stress, and peppermint for alertness.

Each candle is hand-poured with soy wax in our brand new 12oz frosted lilac jar to represent the Alzheimer's awareness movement. Our candles are also made with 2 lead-free cotton wicks to provide a long and even burn lasting up to 80 hours.

100% Money-Back-Guarantee: If for whatever reason, at any time you are unhappy with your purchase just send it back for a full refund.

$6.49 Flat Rate Shipping on all U.S orders!
Orders + Processing
Once you place your order, your candle will be handmade from our facility in either Pomona, California or Dallas, Texas, and shipped within 1-5 business days, excluding holidays, via USPS.
Any orders placed over the weekend will be fulfilled that upcoming Monday.
Shipping
We know, paying for shipping sucks, but we can't all operate like Amazon. However, we can offer you Free Shipping on all U.S Orders over $75.
Once your label is created, you will receive a shipping confirmation email along with a tracking number for you to track the status of your order.
Please allow up to 24 hours for the status to update once our carrier has scanned your order.
Returns + Exchanges
Your satisfaction is our number one priority! So for whatever reason if you are unhappy with your purchase, you received the wrong product or are missing an item in your order, please let us know within 7 days of delivery by contacting us at info@marcellacandles.com and we will issue you a full refund or send you a replacement.
If an item was damaged during transit, please provide us with proof of the damaged item by emailing us a picture at info@marcellacandles.com.
Candles Made with 100% Soy Wax
Candles Fragranced with Pure Essential Oils or with Phthalate-Free Fragrance Oil
Handmade in California (and now Texas!)
Plant a Tree for Just $1 With Every Purchase
When burning the candle for the first time, please let it to burn for 2-3 hours, or until the top layer of wax has become liquid.
Make sure to cut the wick with a wick trimmer reguarly (ideal length 1/4" above the surface).
Do not let your candle burn for more than 4 hours at a time.

For safety, do not burn the candle when there is only 1/4" of wax left in the container.
Smells really good. The company rushed my order for a luncheon I was attending so all my friends who are caregivers received them on time. Excellent customer service!!!
Alzheimer's Cause Candle
I love it. I have it in my front room and I have it on all day long. I use a candle warmer.
Never received my melts. I received my candle but no melts that were ordered and paid for. Candles are beautiful. Thank you
Alzheimer candle
My daughter's and I love our candles.